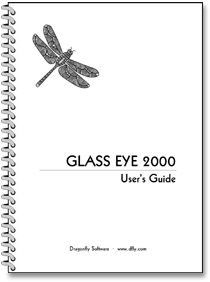 Glass Eye 2000 Tutorial
Copyright © 2001-2018 Dragonfly Software.
All rights reserved.
Contents
Introduction
Glass Eye 2000 is software to help hobbyists and professionals design stained glass windows. It is a tool for creating patterns with beautiful design lines and glass. Its purpose is like that of a word processor, except that instead of helping to create documents it helps you to create designs.
Skeptics may wonder if computerizing an art form results in better art. We reply that programs like this are not intended to replace the artistic process but are here to give the artist one more tool for producing art. Word processors do not stifle the writing process as long as one's focus is on the writing and not the computer.
You are soon to discover that the designs you will create with Glass Eye 2000 are more malleable than any paper-and-pencil design. Imagine being able to resize your design to any dimensions. Or to see, in an instant, the effects of different glass textures or lead widths. Or to move a lead line and have all connecting lines readjust accordingly to maintain their connections. All this is possible here, and by spending less time erasing, redrawing, aligning and copying you can spend more time on the art of design.
Glass Eye 2000 was created by people with a love for the art of stained glass and a devotion to quality software. We hope that with this program your stained glass designs are more fun to create and are more beautiful than ever before.