I'm getting the message "There was a problem sending the command to the program" when I try to open a
Glass Eye 2000

file. How can I solve this?

This message can appear when you attempt to open a Glass Eye 2000 (.eye) file from outside the program, such as double-clicking an .eye file or opening a file that's attached to an email message.

This is easy to solve. First, locate your Glass Eye 2000 folder, which is probably here:

C:\Dragonfly\Glass Eye 2000

Or if you don't have that folder, then here (or something similar):

C:\Program Files (x86)\Dragonfly\Glass Eye 2000

Next, find the application file called GE2000.exe, which might show as GE2000 depending on your Windows settings. Right-click this file, choose "Properties" from the menu, then select the "Compatibility" tab. Locate the option "Run this program as an administrator" and uncheck it.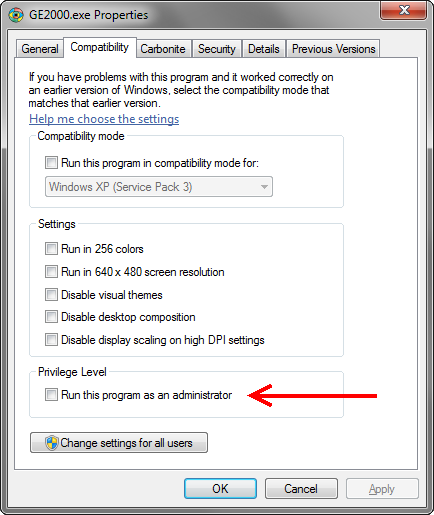 Click OK, and you're done.